2nd International Training Conference "ENCELADUS 2016"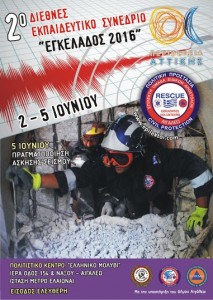 We are pleased to invite you to attend the 2nd International Training Conference "ENCELADUS 2016" which is organized by the Civil Protection Directorate of the Region of Attica in cooperation with the Elite Special Task Force (EP.OM.E.A.) Egaleo and with the kind support of the Municipality of Egaleo.
The overall theme of the Conference is "Earthquake Disaster Response" and will be held from 02 June to 05 June 2016 in the Municipality of Egaleo, Athens, Greece.
It is the second time that such a conference is being held in Greece with the participation of volunteer rescue teams from abroad.
---
Τhe objective of this 4-day International Training Conference is twofold:
to point out potential problems in the field of disaster response as well as solutions to them, in the cooperation among the public entities and between the public entities and the volunteers.
to bring volunteers together from around the world that will gain additional knowledge and complete training in order to deal with similar incidents in real life situations as well as to enhance their cooperation and strengthen working relations among the teams.