The celebration of the National Anniversary in 2020's Greece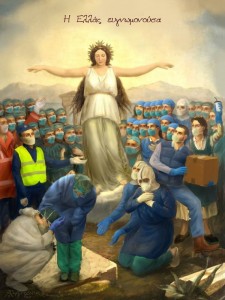 The National Anniversary of the liberation from the Turkish occupation is celebrated every year on March 25th. Every Greek man and woman feels great pride in the bravery and self-sacrifice of their ancestors, in order for them to enjoy freedom and democracy today. This year, the national anniversary was overshadowed by the spread of the COVID-19 virus (better known as coronavirus). To protect sensitive groups and reduce the likelihood of spread, home isolation was essential. At the same time, nurses, paramedics, rescuers and doctors are fighting their own battle in hospitals, fighting an invisible enemy in order to save our fellow human beings. Our fellow citizens are present giving their services in shops, transport companies, banks, pharmacies etc in order for citizens to have what we need at this difficult time. Army and police forces are waging a separate struggle both on the border and inland.
Many of our volunteers are manning these positions. Many stay at home, taking care of their family and fellow citizens. No matter how small or big we consider our duty, we are all the modern heroes of the Greek reality. With patience, strength and responsibility, we set a modern example of the value of Greece.